I recently lost my job due to downsizing and I have many thoughts going through my head and one is should I go back to school? I know I want to continue in the medical field but deciding do I want to be a Medical Assistant, do Medical Coding and Billing or become an RN I just do not know yet. If I do I will be using Campus Book Rentals. As Campus Book Rentals let you rent text books and then return them when you are done, you can write in them like they are your own and offers free shipping! You can't beat that and saves you money on buying the books yourself at the store. If you are reading this and you say darn I just brought text books no worries how about when you are done with them renting them out to other people to use making some extra money.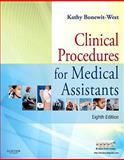 I am going to do a book comparison so you can see what you would be saving I am choosing the book Clinical Procedures for Medical Assistants By

Bonewit-West, Kathy
you can rent it for $34.07 (due in 55 days) or buy it new for $95.38 what a savings of over 50%!
Another perk from renting books from Campus Book Rentals is the awesome donation to Operation Smile where a child all over the world can have a beautiful smile to fix any facial deformities.
Disclaimer: I was compensated in the form of a gift card or product. This is to let you know of this great service and still my opinion which might differ from yours.